In this article:
Evidence-based score gain is a methodology in which we give positive scores to customers that upload valid evidence to the Evidence Locker.
With evidence-based score gain, when valid evidence is shared on the Evidence Locker, a positive score is added to the overall score. This is done to highlight the diligence and cyber-hygiene measures taken by the organization.
Note: There is no negative impact to a customer's score if they don't share any evidence.
In the first phase of this release, evidence-based score gain will be received when a SOC 2 Type1 or Type2 report is uploaded in the evidence locker. The score calculation for evidence-based score gain is capped at 100 and each evidence is tied to a specific evidence weight. Thus, customers get the score based on two factors:.
Current score
Type of evidence uploaded
What's Next?
In the next few weeks, customers will start to see the evidence-based score gain on the Events Log as shown in the screenshot below.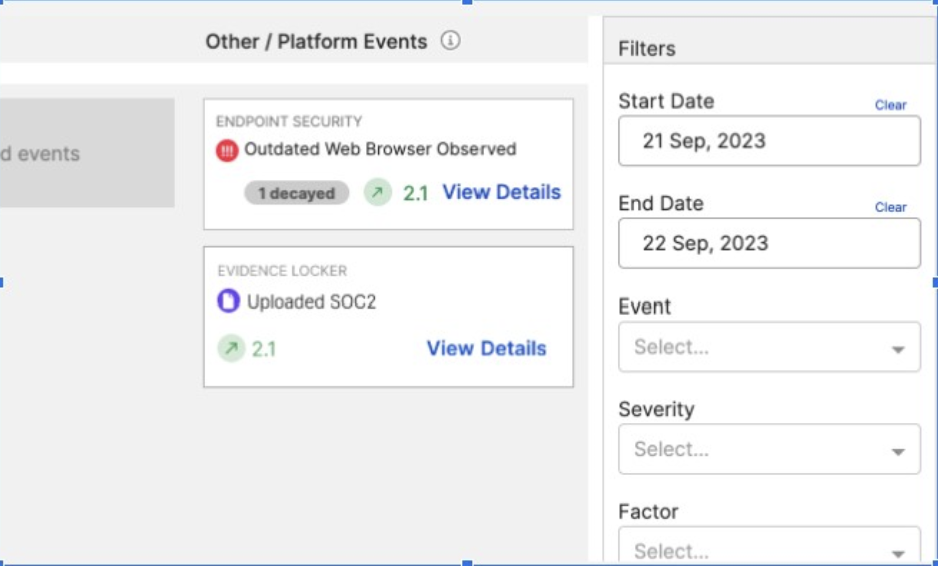 FAQ:
How do I upload the Evidence to the Evidence Locker?
The process to upload an Evidence on the Evidence Locker is documented on this link - Post an evidence artifact
Will I have a negative score impact if I do not upload any evidence?
No, if there is no evidence uploaded, there will not be any negative score impact. This feature is to reward the customers for uploading evidence as it reflects their good cyber hygiene.
How long would it take for the score gain to show up?
It will take 1-3 days (platform date) for the positive score to be reflected with the overall score.