In this article:
About the History Tab & Event Log
Detailed historical view of security events impacting scores.
Overall Solution
The History Tab provides transparency into score changes with a historical score chart.
Scorecard Event Log delivers more transparency around score fluctuations by providing a clear record of issue changes and their impact on a scorecard's overall grade.
How It Works
You are able to view the historical score changes of the last 7 days, 30 days, 6 months, 12 months, or YTD. Additionally, you can use the filter to view the specific historical score impact of factors.
The new Scorecard Event Log can be found in the History tab of any company scorecard. You'll find events covering:
New findings: newly detected findings for issues added to the scorecard
Resolved findings: findings for issues the company resolved internally
Decayed findings: findings for issues that no longer impact the scorecard
Security events: breaches, incidents, and SecurityScorecard Analyst Reports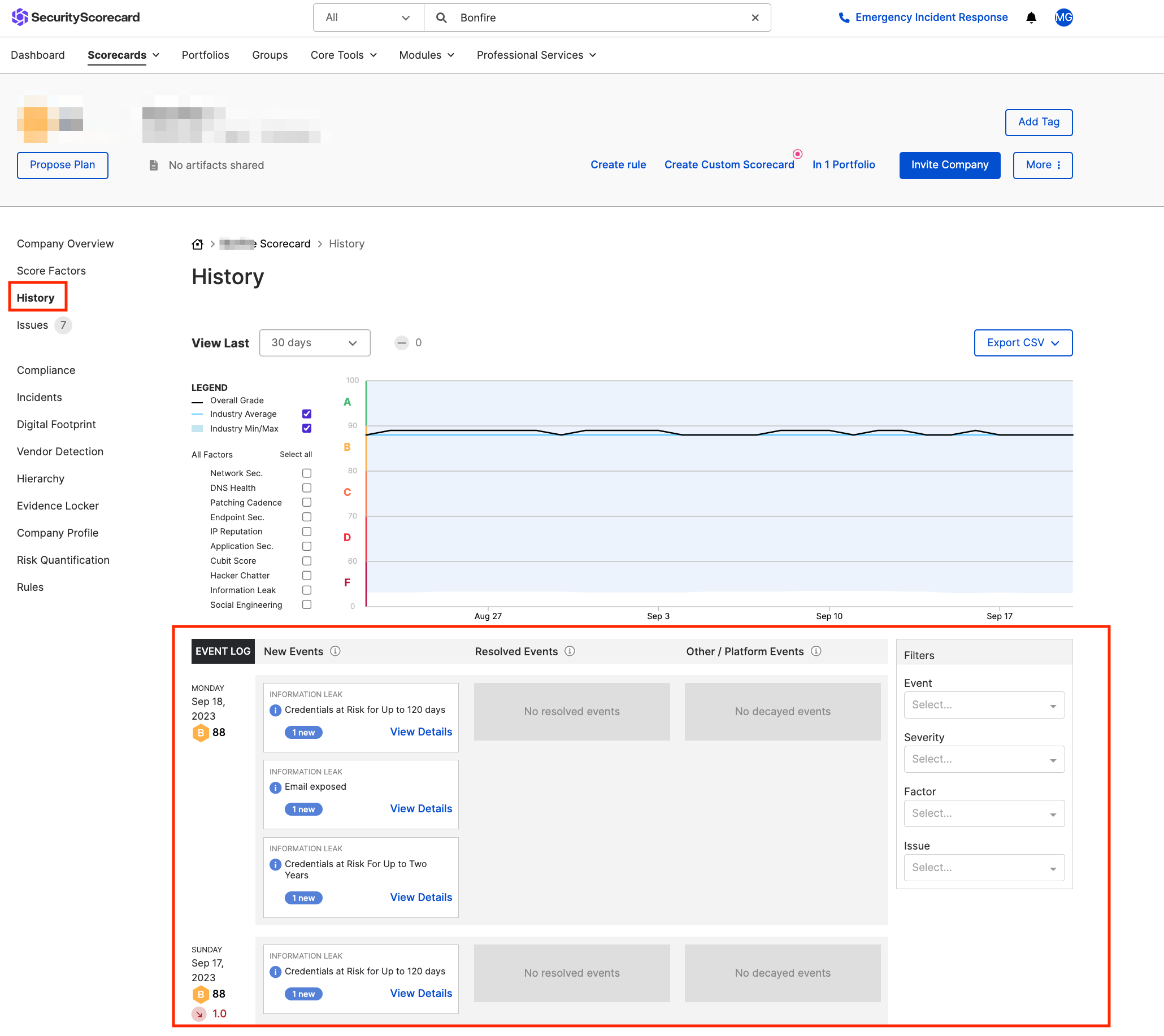 Notes
You can export this information to CSV for your reporting and tracking needs.
Score History features date selection. You can examine events in the Event Log for a specific period of time. Selecting a date or range will update the Event Log with the issue changes for that time period.
The History chart's new factor score and industry measure customization can be toggled on and off with the dynamic legend (to the left of the chart).
Step by Step Guide
Log into your SecurityScorecard account
Navigate to My Scorecard or any other Scorecard
Click on the History tab to view the Score History chart and Scorecard Event Log.
Use the dynamic Legend to view factor-level and Industry Average score histories in the Score History chart.
Select a specific date in the Score History chart to see issue changes* for that day only

Drag and release your mouse on multiple days if you wish to investigate issues across a date range.
Important: Scorecard Event Log cannot show issue changes for dates prior to September 2, 2018 as this time period relies on our former scoring methodology.
When exporting to CSV, select the issue-level option for granular details or the factor-level option for summary changes.
To view findings-level data, click on View Details (located next to each event entry in the Scorecard Event Log) to be taken to the findings results page for that event.
In the table of the findings results page, you can view descriptions and the current status of detected vulnerabilities, and how individual IP addresses and domains were resolved overtime using compensating controls or refutes.