In this article:
Make your Portfolio connections more powerful by contacting partners and vendors. In a few simple steps, you can quickly reach out to organizations with active SecurityScorecard accounts and reinforce how their security activities affect you.
How contacting your third parties helps you
By contacting vendors or partners securely through the platform, you can:
Enable your VRM team to assign new score expectations to them or specify issues you want them to fix.

Track progress on already assigned score expectations in the Contact Manager page and remind vendors and partners who have missed their score improvement deadlines.

Simplify collaboration with vendors and partners and improve your ability to monitor them.
Start initiating contact
Go to a Portfolio and click Contact the organization you want to engage with, or...



...go to to the Scorecard for the organization you want to engage with and click Contact.





Select a person to contact:
If the organization has already claimed their Scorecard with at least one active account, select Designated Contact, which provides an already available name and email address. Then click Continue.

If you personally know someone you want to engage with at the organization, select Your Own Contact and enter their name and corporate email address. Then click Continue.





Note: If the organization has not yet claimed their Scorecard, you will see a form for inviting them to create a free account. Learn how to invite organizations to join the platform.
To increase the likelihood of a response, write a short, personal message, so that your contact has better context for why you are reaching out.




Note: Limit your message to 500 characters. Also, do not include HTML or formatting code. The form does not support it.

To give your contact a specific bar for score improvement

Expand the Set expectations option
Select a letter grade.
Select a time window for improvement.
To remind unresponsive contacts, select that option and the number of days to send the reminder.





Click Send Message.
Your contact receives an email that looks like this: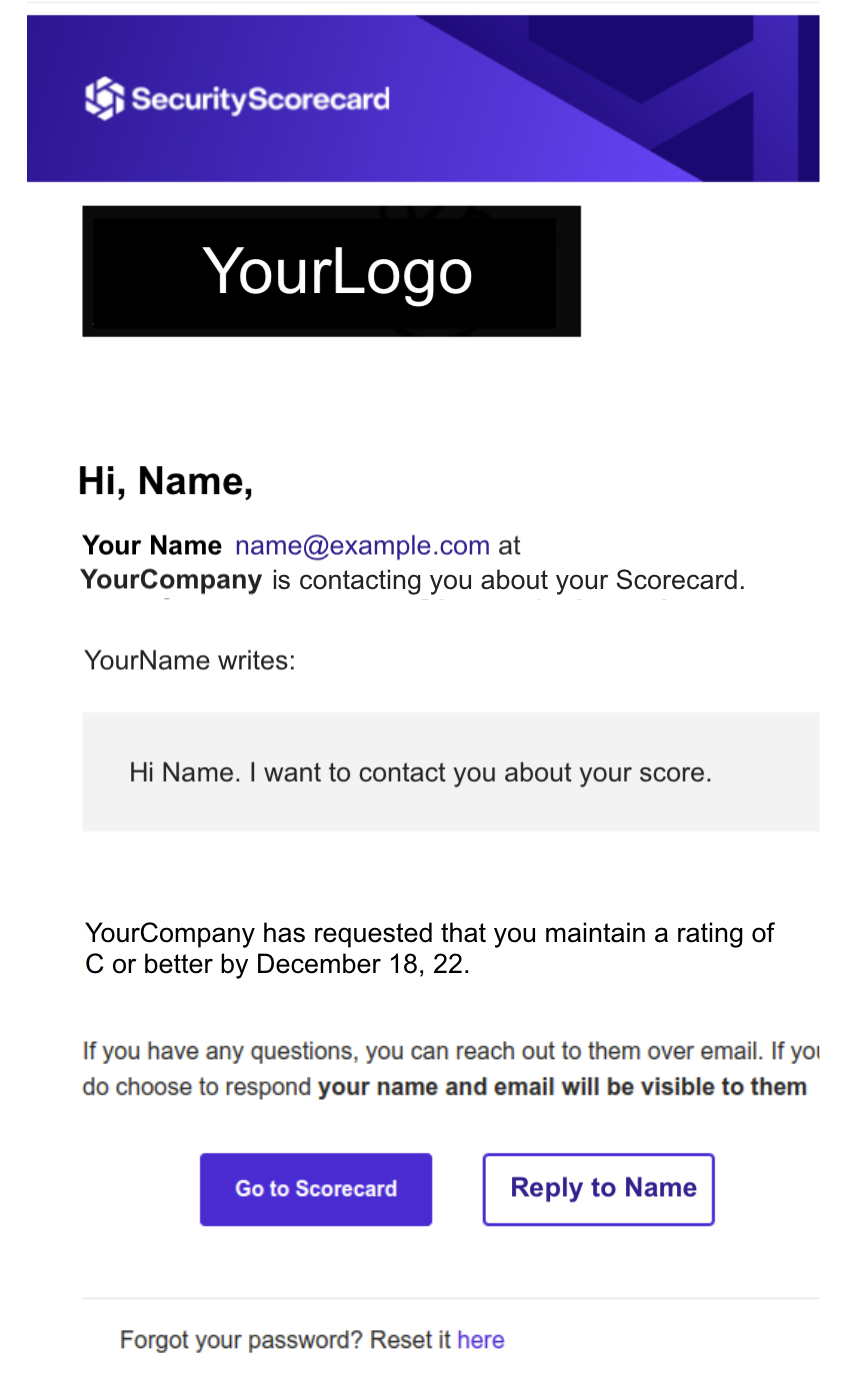 Keep track of your score expectations
Use your dashboard to see at a glance how many of your contacted third parties have met your score expectations: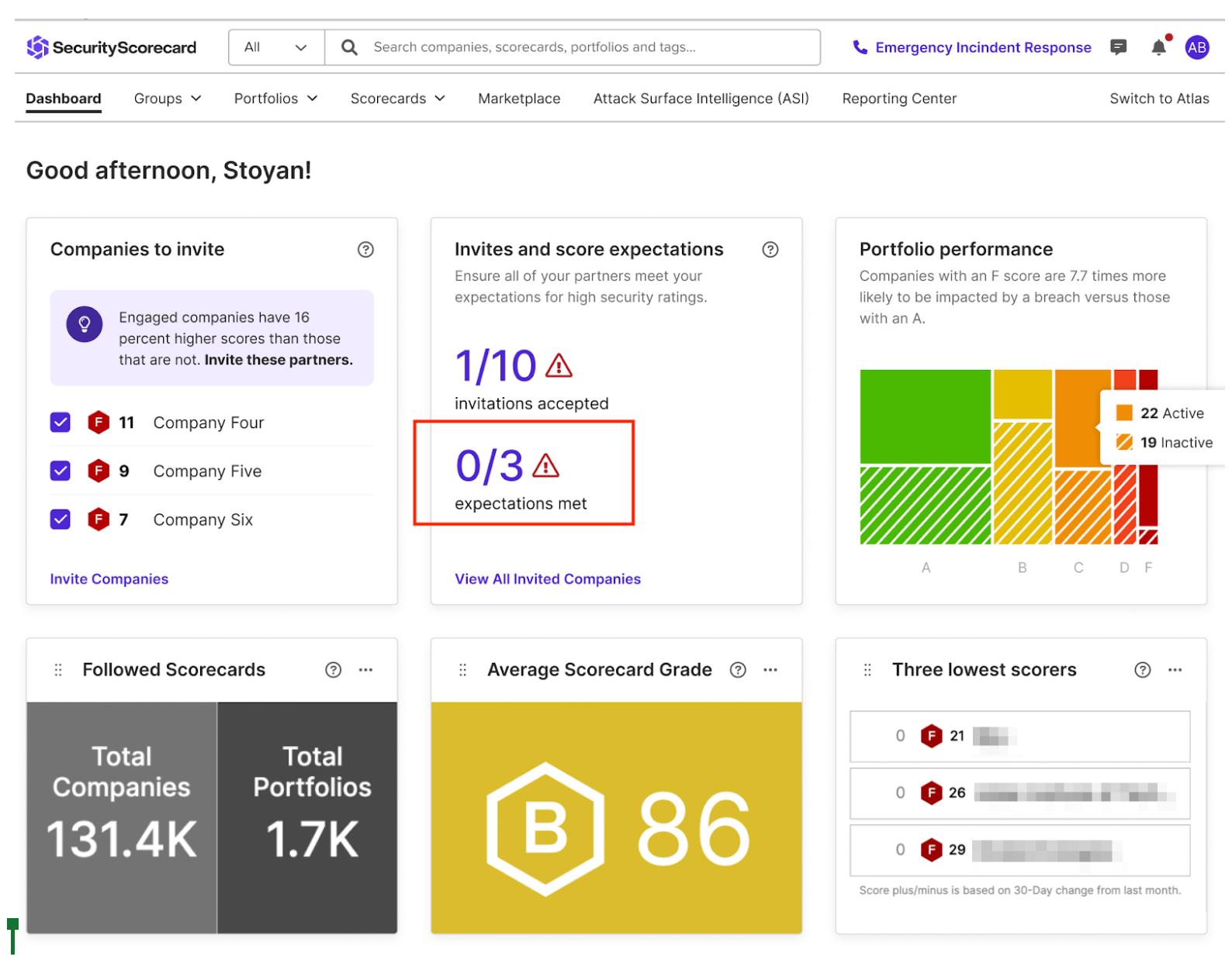 Use your contact manager (accessible from the Portfolios drop-down) to see which specific third parties have met or missed your score expectations. You also can filter which organizations you want to see based on their responses to your score expectations.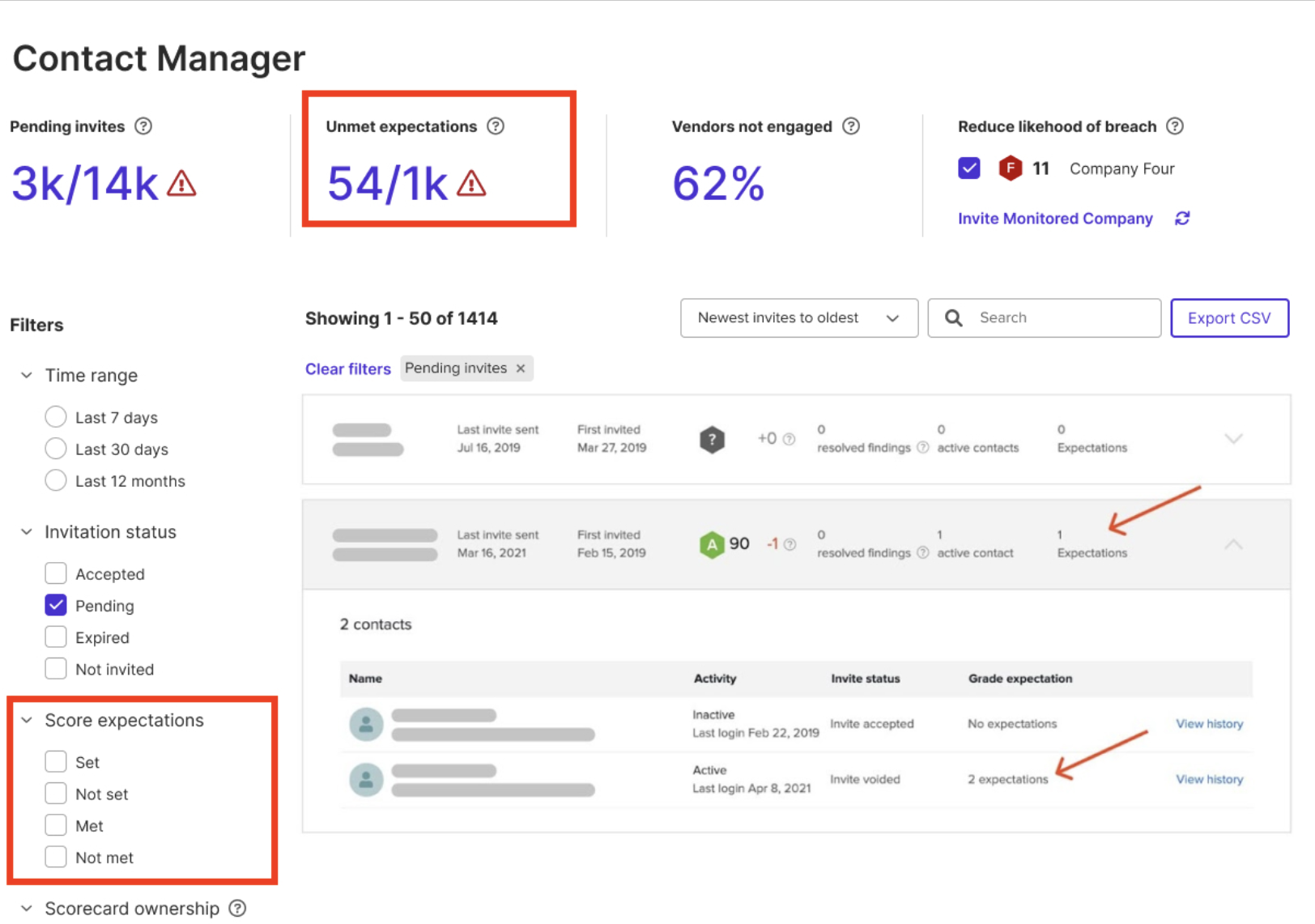 Click View history for any vendor or partner to see details about your engagement with them.