In this article:
Users of SecurityScorecard that wish to have vendors, partners, suppliers, or any third party gain access to the solution can Invite users to join within the platform. Users typically will invite others to join SecurityScorecard when they feel one or more employees of the invited company will benefit from gaining their company's Scorecard. Companies that accept an invitation to join will gain access to SecurityScorecard for their business only.
Invitations must be addressed to an individual's email address that includes the company's primary domain name. Once an individual accepts an invitation to join SecurityScorecard – they can begin to view (and start to address) security findings for their company.
Benefits
Enable VRM customers to seamlessly invite their suppliers and provide them with the tools needed to customize and optimize their invites in order to decrease pushback and get more vendors to accept invites and join SecurityScorecard to actively maintain a good security posture.
Additionally, enable customers to actively track the improvements their vendors are making after joining the platform through setting score expectations.
Use-cases
As a VRM, when one of my vendors has low scores, I want to know how to best invite and communicate to them as part of the invite process in order to increase the likelihood of invite acceptance and decrease vendor pushback

As a VRM, when I invite a vendor that has low scores, I want to set score improvement expectation as part of the invite and be able to assign a timeline (mandate) with the ability to track the progress and get notifications when the expectation was met or not, so I can hold my business partners accountable to maintaining good security posture
How it works
Navigate to the Portfolio page or individual Scorecard pages
A company can be invited to join SecurityScorecard either using the Invite Company button on individual scorecard pages or via the Invite link on a user's Portfolio page. Please note that you can only invite inactive organizations. If the organization is active, you can contact the organization instead.
Once an invitation has been submitted, the individual that is being invited will receive an email with all of the information provided in the form. This includes a note from the person requesting the invitation, and additional information relevant to any organizational standards around thresholds for vendor cybersecurity performance. For example, the individual making an invitation and request that a partner achieves a specific SecurityScorecard grade in a certain period of time.
Vendor Status
The vendor status reflects if an added company is active on our platform.
Active means at least 1 person has an account at the added vendor.

Inactive means no one from that vendor has logged in for 90 days.
Add Contact info, email subject, and message (required)
Contact info includes first, last name, and company email address (must end with @company email domain).
Our template is pre-filled to help you easily communicate with third parties. Use it as it is or add your own language to make it your own.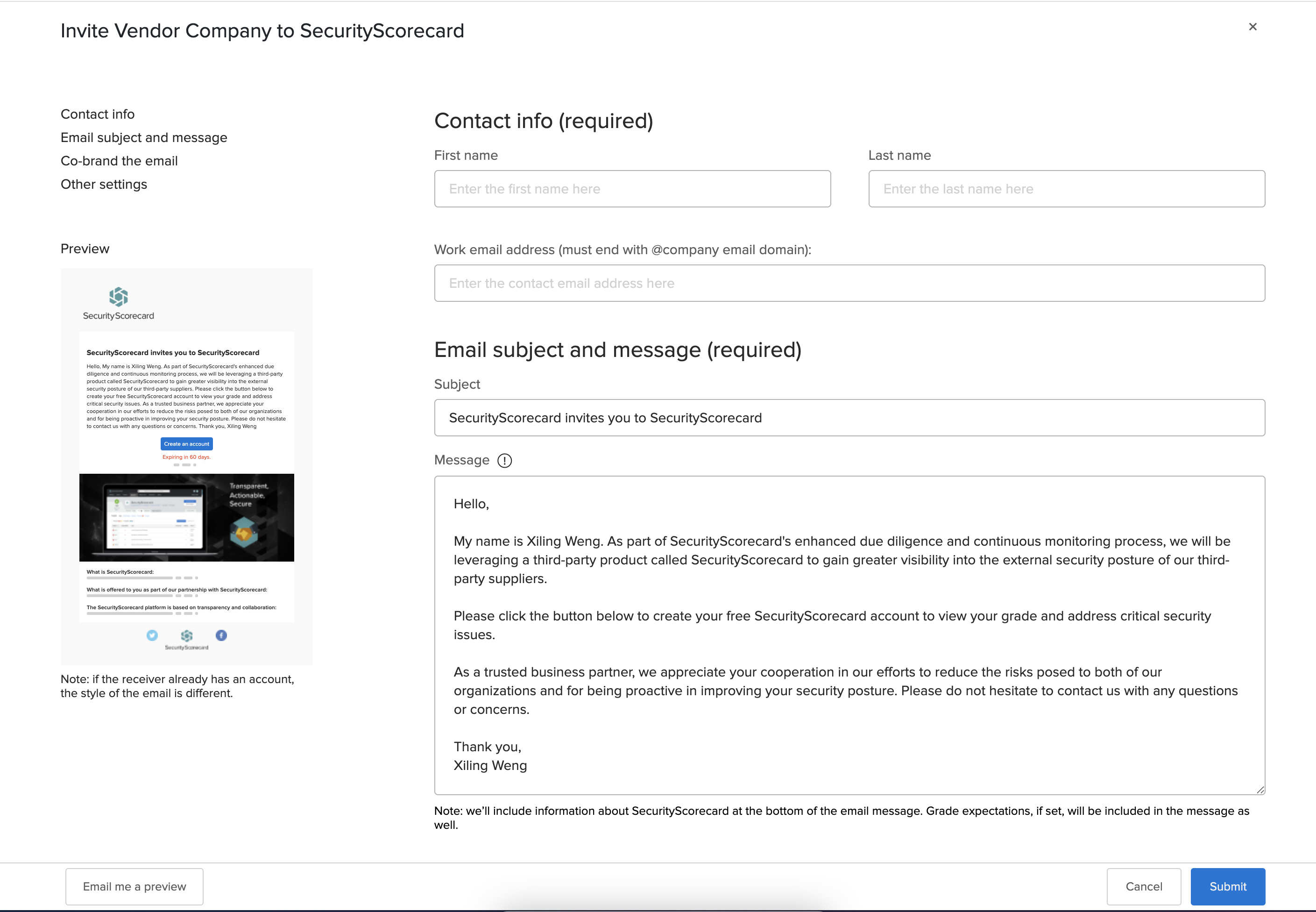 Co-brand the email (recommended)
Co-branding emails will help receivers understand that the email is from a trusted source.
If you're the administrator, and there's no logo uploaded, you will see a banner on the top of the modal. Please add the logo first on the Settings page.

If you're not the administrator, and there's no logo uploaded, please contact the administrator to add a logo.
Once a logo is added, and if you are allowed to choose branding, then you will be able to choose to brand the email with your logo. If the administrator enforces the default branding, then you won't be able to select branding.
Other settings (optional)
You can set a grade expectation and reminder email. Grade expectations, if set, will be included in the message as well. Tips about how to improve your grade will also be included.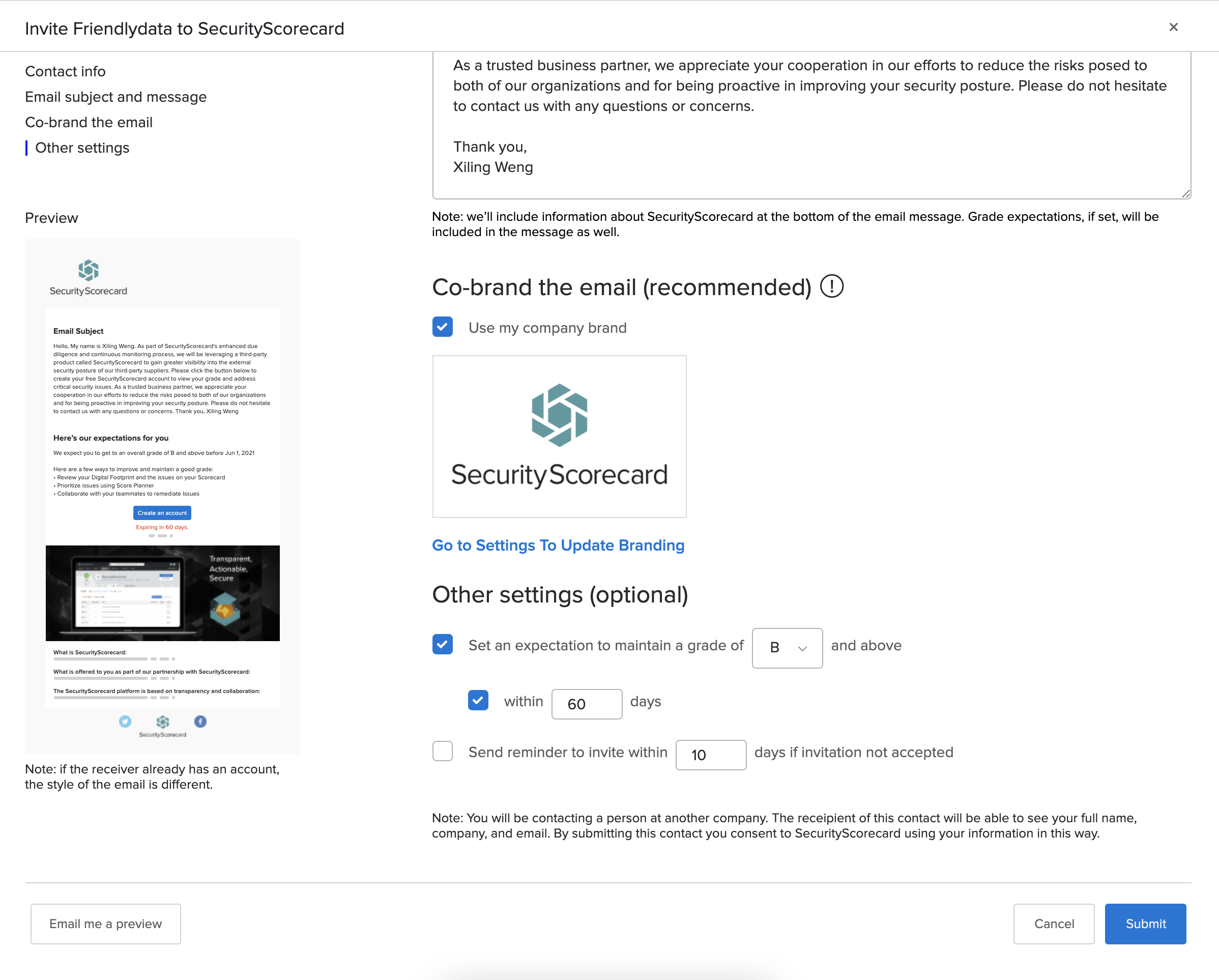 Preview and Submit
You can see your message come to life in the preview on the left. Note: if the receiver already has an account, the style of the email is different.
Once click the Submit button, the invitation will be sent to the vendor.
Track Score Expectation in Invited Companies Dashboard
Expectations are shown as one of the columns on the Invited Companies Dashboard, you can click the View History button to see more details.