In this article:
Integrate, automate, and simplify your workflows by connecting SecurityScorecard Ratings data to the tools you work in, such as your GRC, VRM tool, ITSM solution, SIEM, CASB, workflow apps, and more.
Marketplace, is a one-stop-shop where you can discover and deploy trusted partner solutions and prebuilt integrations to optimize your security workflows, access even more security intelligence, and accelerate risk mitigation.
Use Marketplace apps to:
Access security intelligence embedded into scorecards from trusted partners to augment your view into risk.

Manage workflow tools to automate tasks and reduce manual effort for repetitive tasks.

Manage third-party and supply-chain risk to amplify mitigation and take control of ecosystem risk.

Partner with professional and remediation services to augment your capacity.

Use business intelligence data to gain insight into corporate structure and other non-cyber risk.
Start integrating
Select Marketplace from the Core Tools drop-down in the top navigation menu.

On the Marketplace page

, browse apps and their descriptions, find apps by category, or search for a specific app by starting to type its name.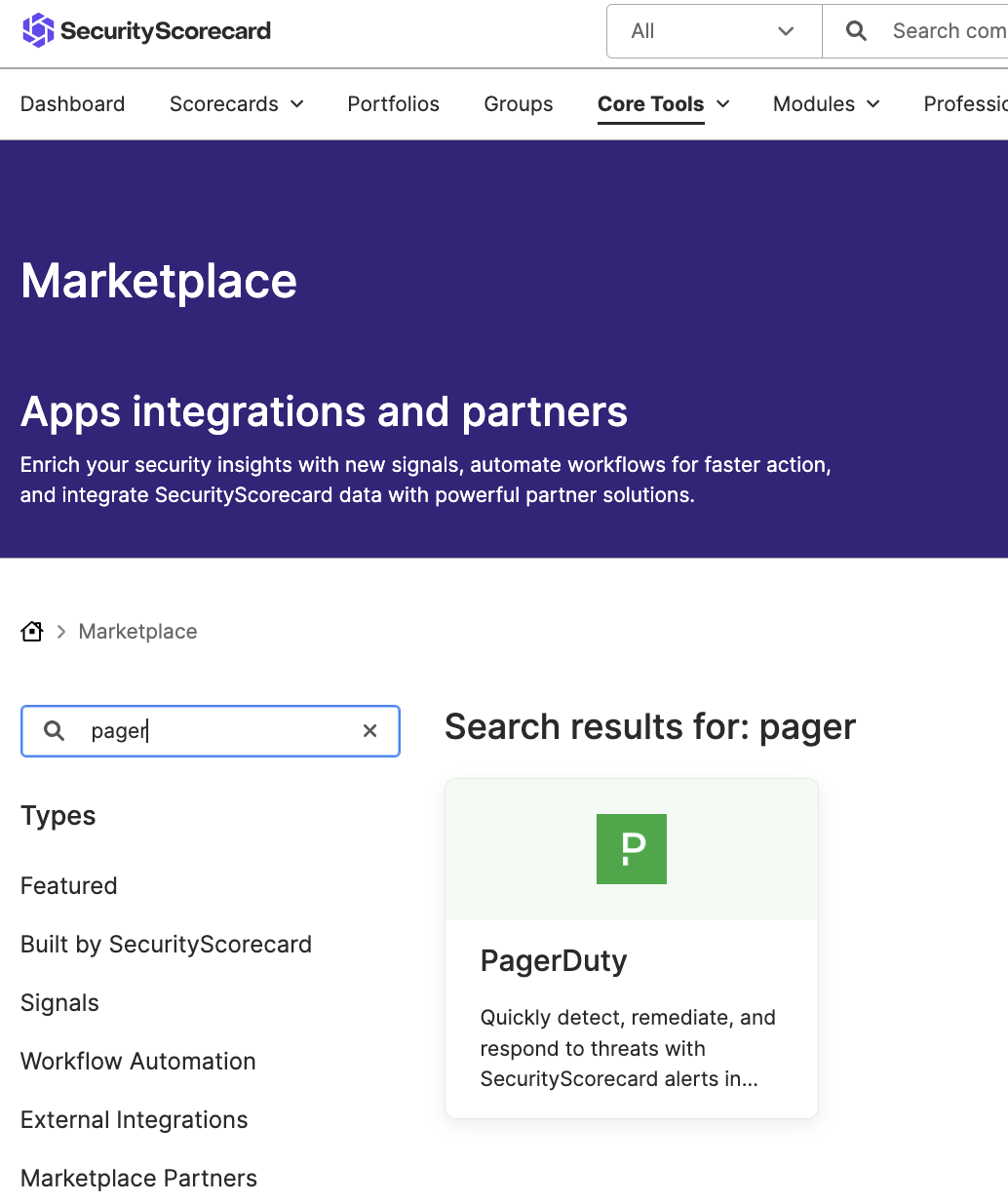 Click an app to learn how to use it and start a simple installation.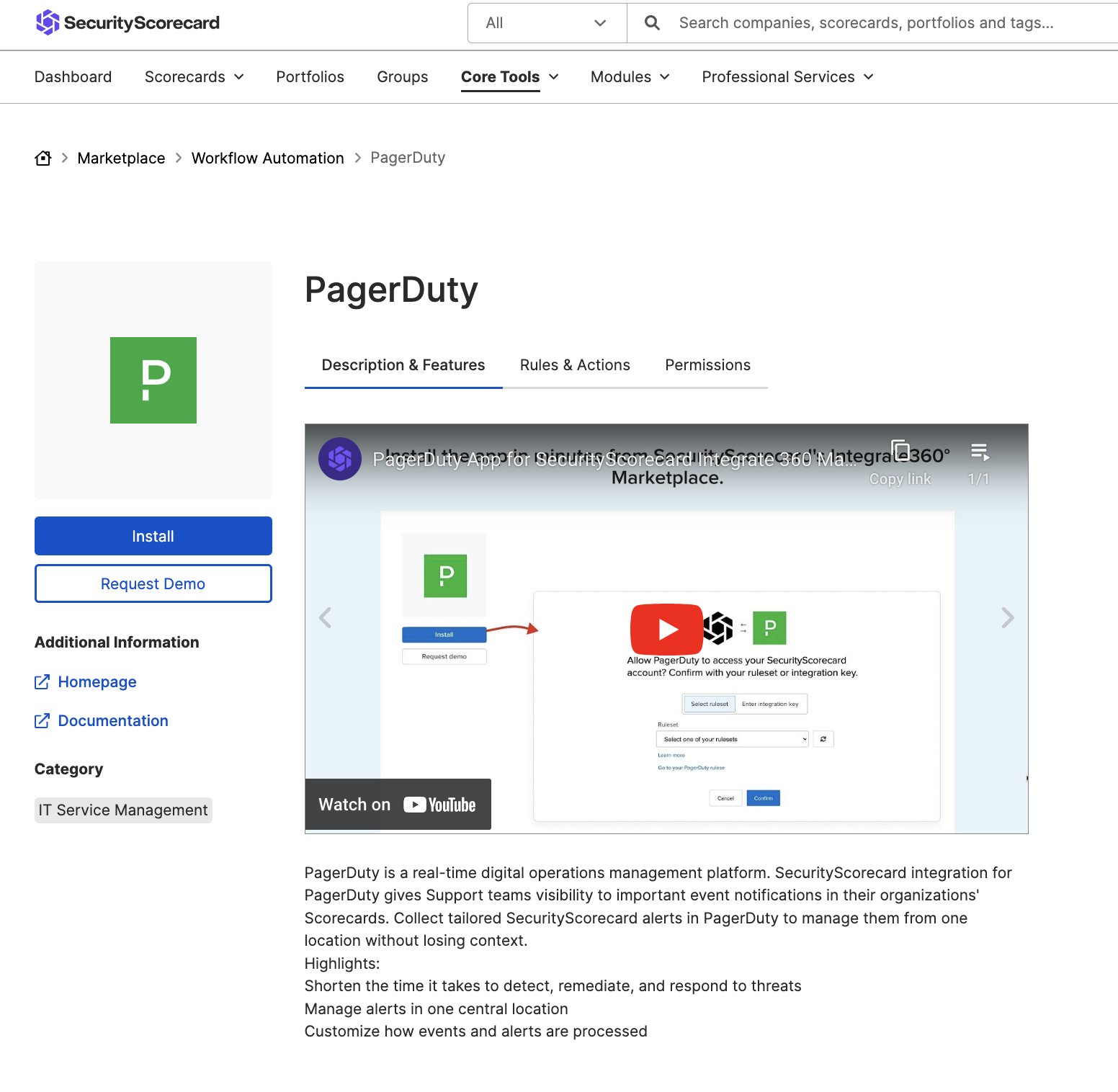 FAQ
Can anybody access the Integrate360° Marketplace?
The marketplace is visible to any SecurityScorecard user with a login. That includes free and subscription accounts. Installing integrations or apps requires permissions that are specific to each integration or app.
Are any apps not available to free users?
Productivity apps, including Jira, Slack, and Zapier, are not available to free users.
Tip: Log into the SecurityScorecard plans page for more information about levels of features and access.
How much does it cost to set up an app or integration?
Installing our apps requires you to have a license with SecurityScorecard and the app you wish to install. Other than that, there is no additional cost from SSC.
Threat intelligence apps, including DarkOwl, HackerOne, and CybelAngel, do not require a license with the data providers. You can opt into receiving the signals directly on those app pages in the Integrate360° Marketplace.
How can I request an app, Integration, or data partner?
We are always looking to add new integrations and apps to augment your SecurityScorecard experience. You can request new apps right from the platform by selecting the Request new apps button in Integrate360° Marketplace.
This will take you to the SecurityScorecard Customer Ideas Portal, where you can add your request on our form.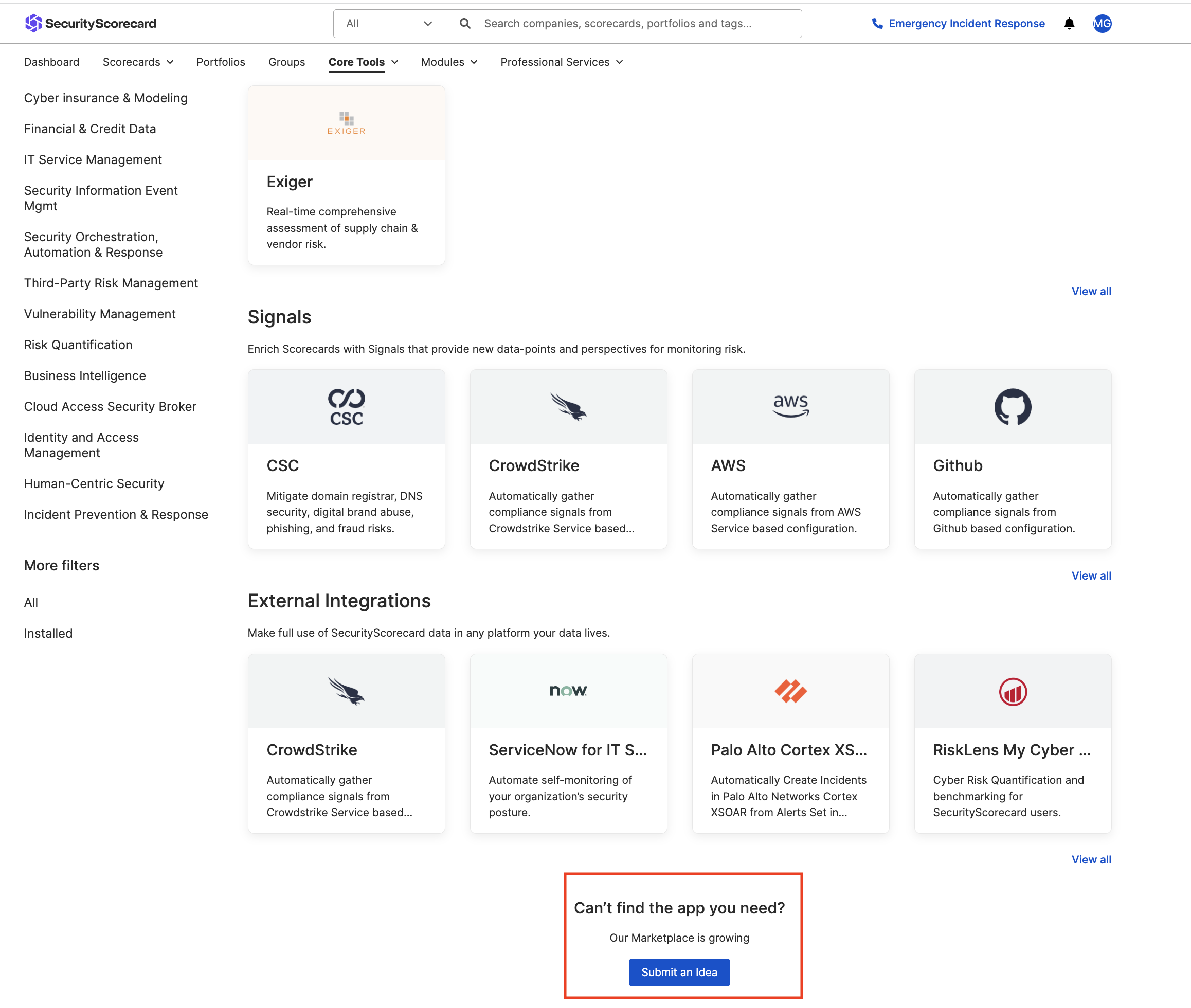 Get more help or more guidance about Marketplace
Do one of the following: