Managing compliance evidence is a job in itself. Whether you are vetting potential vendors, or you are a vendor trying to demonstrate compliance to a prospect, curating multiple files that make up compliance evidence takes a lot of time and effort. With SecurityScorecard's Evidence Locker, you can view and manage these files simply and show them in strategically visible locations.
Using Evidence Locker as a Vendor
As you work through the security and compliance questionnaire process with prospects, you can use Evidence Locker to store all your evidence files and display them as badges for quick identification. This is also a good way to showcase your compliance for people from other companies who may browse your scorecard.
The badges appear in the headers of the scorecard, portfolio, and the company profile pages.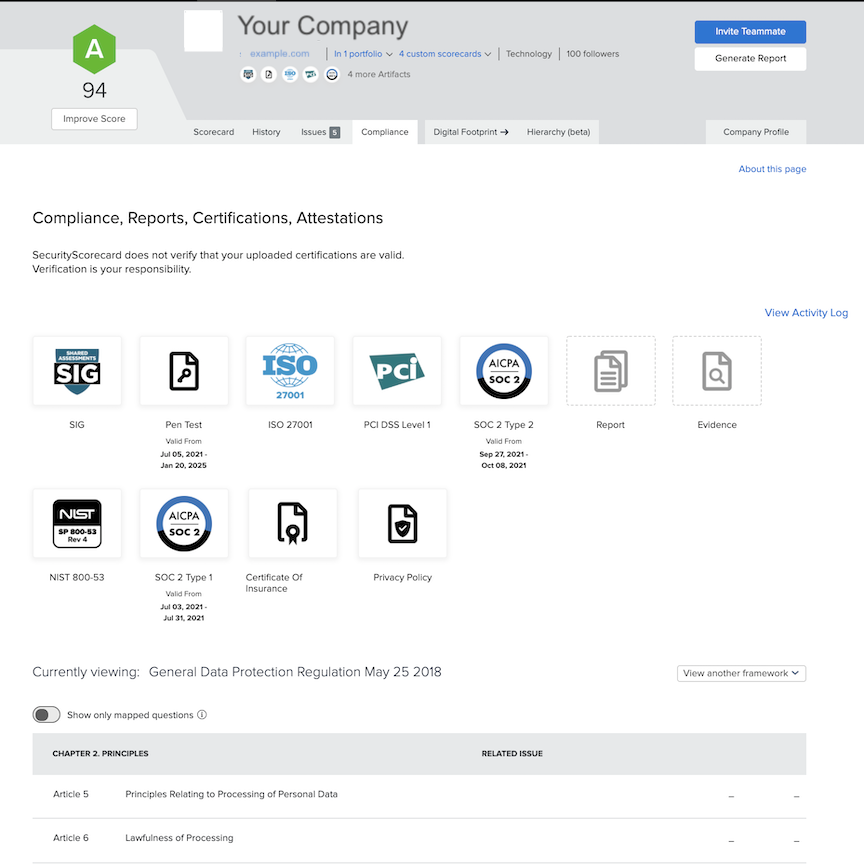 You can upload attestations, certifications, or reports from your computer, or import them from Atlas if you have an Atlas license. Acceptable file formats include:
.pdf
.csv
.xlsx
.jpg
.png
Note: You cannot upload .exe or archive formats, such as .zip.
You also can post links to a URL for a file or a site. Nobody outside of your company can download your posted files or access your posted links.
Note: Your company is responsible for verifying any certifications or attestations. SecurityScorecard does not perform any validation.
To upload an evidence file:
Click the Compliance tab on your company's scorecard.
On the Compliance page, click the greyed icon for the evidence file you want to post and select a posting option.

Depending on your selection, do one of the following:

To upload a file, browse your computer for the file, select the file, and then click Upload.

To provide a web link, copy the URL from your browser navigation tab, and paste it in the text box. Then, click Add Link.

To import a file from Atlas, select the file, and then click Import.

After you successfully post the file, the icon darkens, and you see the option to download or delete the file.
If the upload fails, see Troubleshooting artifact uploads.
Note: You cannot delete a file imported from Atlas in Evidence Locker. You can only delete it in Atlas.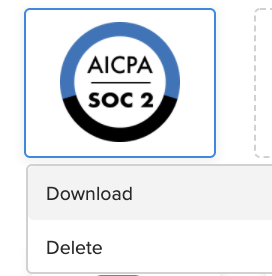 Troubleshooting artifact uploads
Content for this section will be available shortly.
Using Evidence Locker as a VRM
If you are a vendor risk manager (VRM), you can browse compliance evidence for any company that you are vetting as a vendor. Use one of the following views:
Click the Compliance tab for a company to view their displayed evidence.

See the badges when adding the company to a portfolio.

Get help
If you need help or have additional questions, submit a Support request.