In this article:
The Microsoft Teams app is available with a paid SecurityScorecard plan. See our plans page for more information about levels of features and access.
Use the Microsoft Teams app in Integrate360° Marketplace to make sure your team never misses a change on a scorecard. With the app you can have scorecard events trigger notifications in a designated Microsoft Teams channel. Each message includes important event details and a link to relevant information in SecurityScorecard.
Install the App
First, make sure you have the following:
SecurityScorecard account with a paid plan, which enables Microsoft Teams integration

Microsoft Teams account
Now, take these simple steps:
Select Marketplace from the top menu in the SecurityScorecard platform.




On the Integrate360° Marketplace page, select Microsoft Teams App to access the installation page for the app.




On the Microsoft Teams App page, click Install and follow installation prompts.
Create a Webhook in Microsoft Teams
A webhook is a unique URL for sending alert notifications from the SecurityScorecard platform to your selected Microsoft Teams channel.
Note: You can use the same connector for multiple rules, so you only need to create a webhook once.
Open your

Microsoft Teams

workspace.

In the left sidebar of the workspace, select a target

channel,

open its menu, and select

Connectors.




Find and install the Incoming Webhook connector.





Open the

Incoming Webhook

configuration. You may need to repeat steps 1 and 2 again to find the configuration dialog.

Then, click Add to add a webhook.





Create a hook.

Name it

SecurityScorecard

.

Use the SecurityScorecard logo by downloading the logo displayed below:

On a Windows, right-click the logo.
On Mac, hold down the Control key and click the logo.


Click

Create.
Copy the displayed webhook URL, which you will need for creating a new notification rule.

Click

Done

.
Get the URL of an Existing Webhook
Go to Teams and select Connectors (See Create a Webhook in Microsoft Teams.

)

Select

Manage > Configured.
Under Incoming Webhook,

click

# configured and then click on manage for your webhook.





Then you can copy webhook URL again.
Note: Alternatively you can remove the webhook entirely.
Set up Notifications in SecurityScorecard
On the Microsoft Teams App page, select Rules & Actions.




In the drop-down list, select an option:

Create your own custom rule.
Use a predefined rule provided by SecurityScorecard.

In

Rule Builder

, create the details of your rule:

Enter a name to help you remember the rule.

Select the event that will trigger the rule, such as:

Grade drop or rise

Overall score drop or rise

Overall score percentage drop

Select a scorecard or portfolio that the rule applies to.

Select one or more actions that occur when the rule is triggered.
For Microsoft Teams alerts, select Notify Channel.
Paste and name the webhook that you acquired one of the following ways:

Save the rule.
Your Microsoft Teams channel will now receive notifications with actionable details whenever the rule is triggered.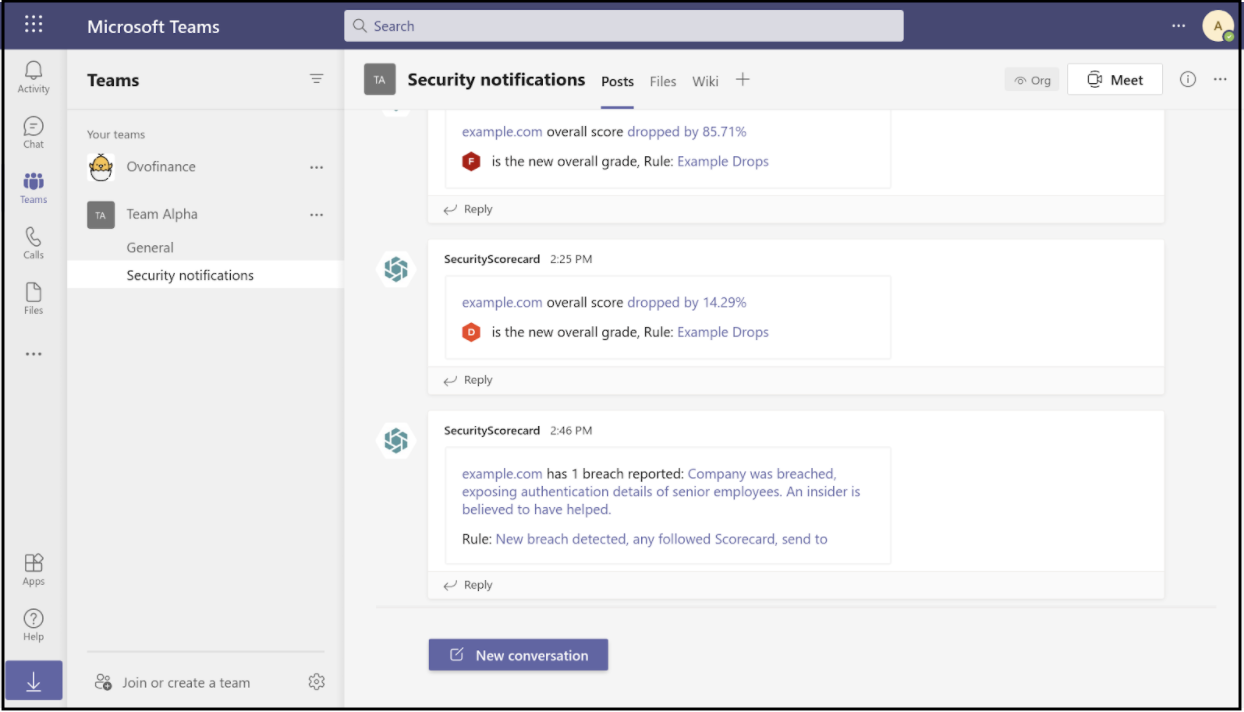 Get Help
If you need help or have questions, submit a Support request.