In this article:
Access DarkOwl's vast darknet data from SecurityScorecard for a more comprehensive measurement of cyber risk and exposure, without having to go directly onto darknets, such as Tor.
DarkOwl is one of our growing list of partnerships with leading cybersecurity data providers who bring even more depth into specific issues that your security team needs to know about.
Meet DarkOwl
DarkOwl provides the world's largest database of darknet content and the tools to efficiently find leaked or compromised personal or company data. DarkOwl enables cybersecurity organizations, brands, law enforcement, and government agencies to fully understand their security posture, detect potential breaches, leaks, and violations of the law, and mitigate them quickly.
DarkOwl provides one type of informational signal in SecurityScorecard:
Enterprise DARKINT Exposure Score
Use this credit-score-style measurement to understand how much potentially harmful darknet intelligence is publicly available on your data. Scores are based on the quantity, quality, and freshness of exposed data on the darknet and interconnected data sources. The higher the score, the greater the risk that criminals can gain access to data that can threaten security protocols.
You can best understand scores when benchmarking for your firm's industry, size, and surface web presence; outliers are often soft targets for hackers.
Note: Partner signals are informational. They do not impact your Scorecard grade.
Install the DarkOwl app
Select

Marketplace from the top menu in the SecurityScorecard platform.



On the

Marketplace

page, start typing DarkOwl in the search box and then s

elect

PagerDuty App to go to the installation page.





On the

DarkOwl

app page, click

Install

.







Installation completes in seconds with no additional prompts or messages.
Find DarkOwl signals in the Scorecard
You can view any available DarkOwl signals on your own Scorecard or any Scorecard you follow:
Click the Scorecard tab, and select the Hacker Chatter factor.
Any available DarkOwl signals appear in an Informational section for that factor.



or

Click the Issues tab in the Scorecard. Any available DarkOwl signal appears with their logo in the informational rows of the table.




Click the signal to see a description of the signal and reference links for additional information or guidance.




Scroll down for observation dates.


FAQ
I do not see findings surfaced by DarkOwl.
Do I need a subscription in order to view details?
The data that is surfaced in SecurityScorecard is very similar to what would appear as a "Baseball Card" type score in DarkOwl (see image below).
If you navigate to your findings and hover over the URL for the finding, you can see the DarkOwl data.


So, while you do not need to subscribe to the service, you may find that you can get additional value depending on your use case. To help with your evaluation, consider reviewing DarkOwl's site. You may even choose to book a demo to learn more.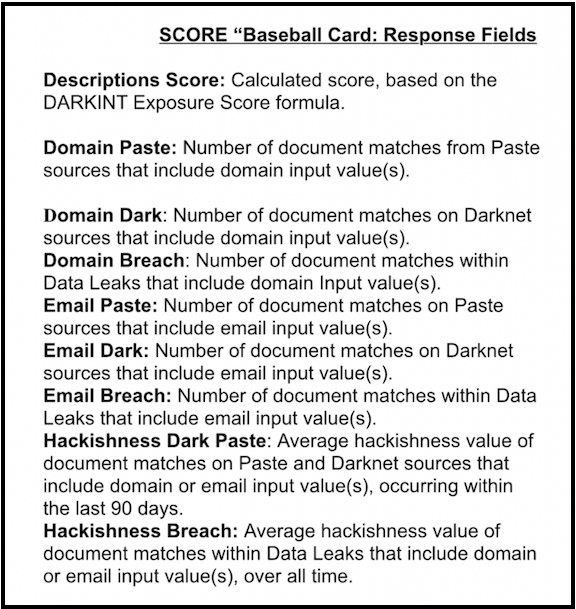 Learn more
Find out more ways to work with DarkOwl's exposure scores and how they can complement Scorecard metrics.
Give feedback or get help
If you need help, have questions, or would like to give feedback about the DarkOwl integration, submit a Support request.