In this article:
Use the Benchmarking report to measure the cybersecurity resilience of any organization against organizations you monitor in your portfolios:
Benchmark your own organization's risk and security hygiene against competitors or industry peers.
Benchmark the security posture of a vendor or potential vendor against other third parties.
The report compares the following data points over a selected time range for the organizations you want to benchmark:
Score changes
Factor scores
Events of interest, such as breaches
Run the report
Select Reporting Center from the Core Tools menu in the top navigation bar.




On the Trends and Analysis page, select Benchmarking.


Select an organization to compare others against. Your own organization is the default value. To select a different organization, start entering its name to initiate a search and then select the result you want.




Select a portfolio to benchmark against.





Select up to 10 scorecards in the portfolio.




Click in each date field, and use the calendar to select a benchmarking date range.




Tip: The report generates and updates as you select each setting. You can change scorecards or adjust date ranges to see different data.
View benchmark measurements
Note: If you are unable to view the report, make sure to enable cookies in your browser. See the following instructions for popular browsers:
Google Chrome
macOS Safari
Microsoft Edge
Mozilla Firefox
In the right panel of the report, view each of the benchmarking categories.
Score changes
See how scores have risen or dropped for the different Scorecards over the time range.
For example, you may have asked low-scoring vendors to address their poor security performance. Use this benchmark to assess whether your requests have resulted in improvements.



Factor scores
Benchmark organizations according to different factors.
For example, see if competitors are struggling with the same factors that are particularly challenging for your organization.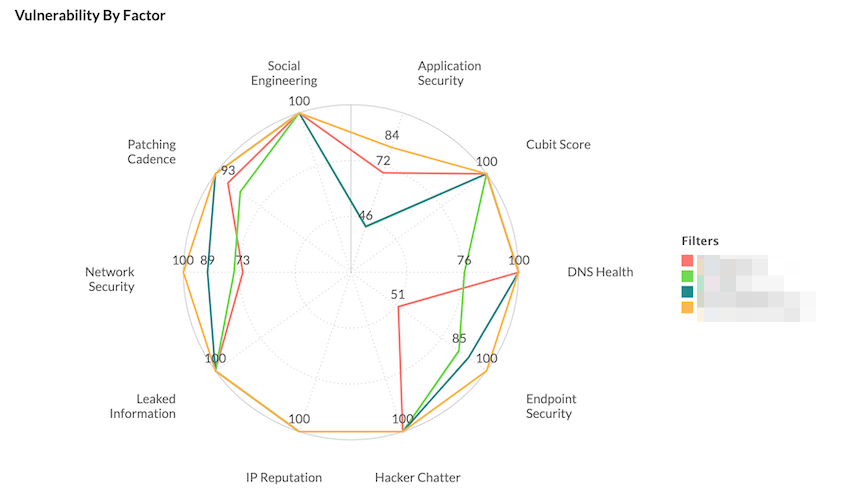 Tip: To simplify your view of the Factors benchmark, hover over any Scorecard in the legend, or click on it, to filter it out.


Events of interest
See if any of the benchmarked organizations had breaches, malware attacks, or ransomware attacks in the date range, and how many.



Tip: To download any benchmark, click the three vertical dots in the upper-right corner, click download, and then select the format option.


Get help