In this article:
Use the Global Search feature in the Ratings platform to quickly find the exact information you need in any Scorecard.
Use Global Search
Whether you are a CISO checking the progress of issue remediation on a sensitive asset in your organization, or a member of a vendor risk management (VRM) team tracking score trends in your vendor portfolios, Global Search leverages a various capabilities to help you do your job faster:
Consolidation of results in one location and organized by companies, Custom Scorecards, Portfolios, and tags categories
Ability to search by any of those categories alone
Ability to sort search results for each category based on relevance or alphabetical order
Ability to see whether you are following companies that appear in search results
Automatic suggestion of results as you type search words
Retention of recently searched items
Search by all categories
Searching by all categories is helpful for finding and correlating results that share a common search string.
In the search box at the top of any page in the Ratings platform, select All for categories and then start typing text to search on.

Five results appear for every category, changing as you continue to type your search term.




For any category, click Show all or Search all results to see the full set of results for the search string.


Tip: For company results, see which organizations you are following. This is helpful for identifying organizations that may have escaped notice but are impactful to your security posture.





Click through category tabs to see different groupings of results.




Sort results alphabetically or by relevance.




Click any result to view related entries. For example, click a tag result to see all companies to which that tag was assigned.


Search by a specific category
Use category searches to find different types of results quickly. For example, use Companies to find organizations that are relevant to a VRM assessment.
In the search box at the top of any page in the Ratings platform, select any individual category, such as Company, and then start typing text to search on.


Click Show all or Search all results to see every result.




Navigate and sort results as with an all-category search.
Use retained searches
To use search criteria you have used previously, click inside the search box.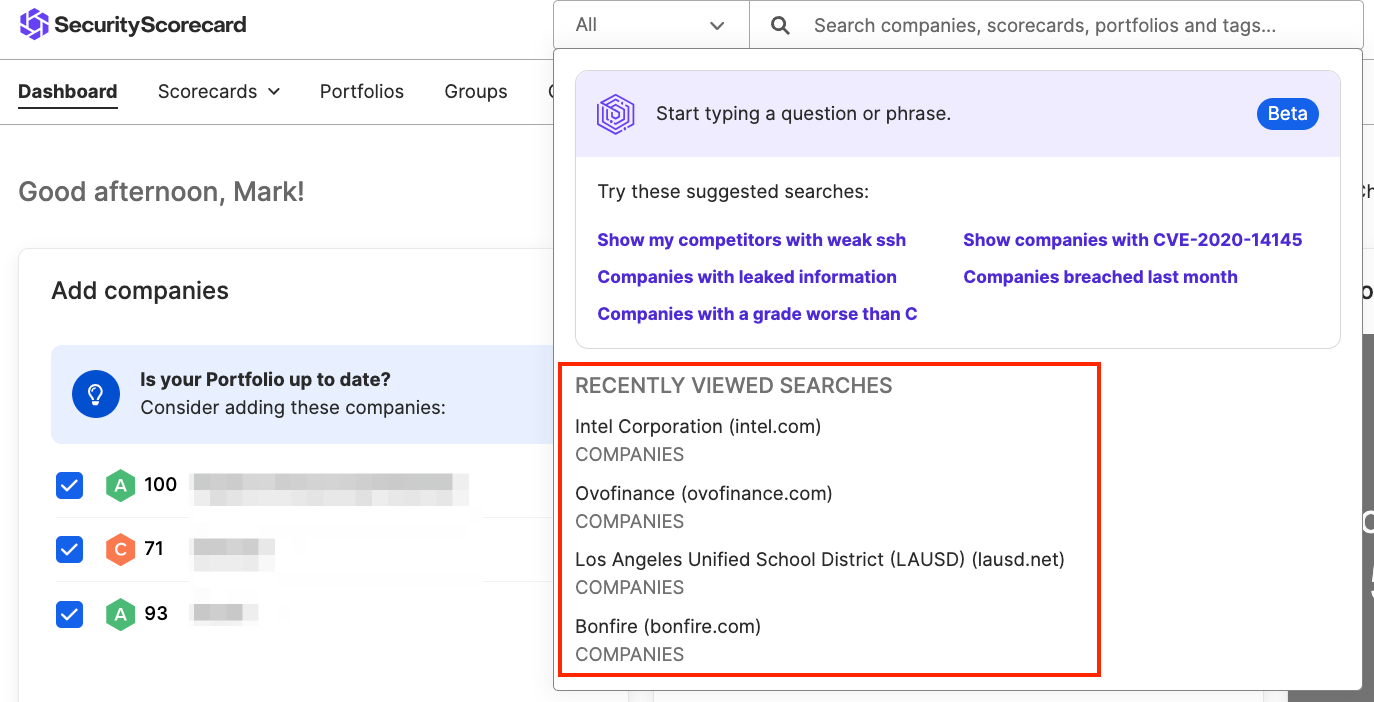 Use natural-language Portfolio Search
Using AI-powered search capabilities, you can ask about scores, issues, vulnerabilities, and breach history for a Portfolio.
Enter your query in the global search bar, or select one of the suggested searches.





Drill down into the results as with Global Search.