In this article:
Use the Ransomware Analytics report to measure how close an organization may be to a ransomware attack.
The report helps you understand an organization's susceptibility to an attack by displaying and correlating several key pieces of information:
A score reflecting the organization's overall likelihood of attack, based on issue types flagged on its Scorecard that were present in other organizations that have had ransomware events

Note: The report's ransomware score is not related to the Scorecard rating and does not directly affect it. However, issue types that affect the ransomware score may also impact the Scorecard score.

A chart showing the issue types that reduce the ransomware score most significantly, each with a number reflecting how much it negatively impacts the score. Remediating each of those issue types reduces the likelihood of a ransomware event and triggers a recalculation of the score.

Note: Remediating all the findings of an issue type in the report does not raise the score by the value of the issue's negative impact. It raises the score slightly based on relevant issue types still on the Scorecard and other conditions.

Explanations for how the presence each of those issue types can lead to ransomware events and recommendations for remediation.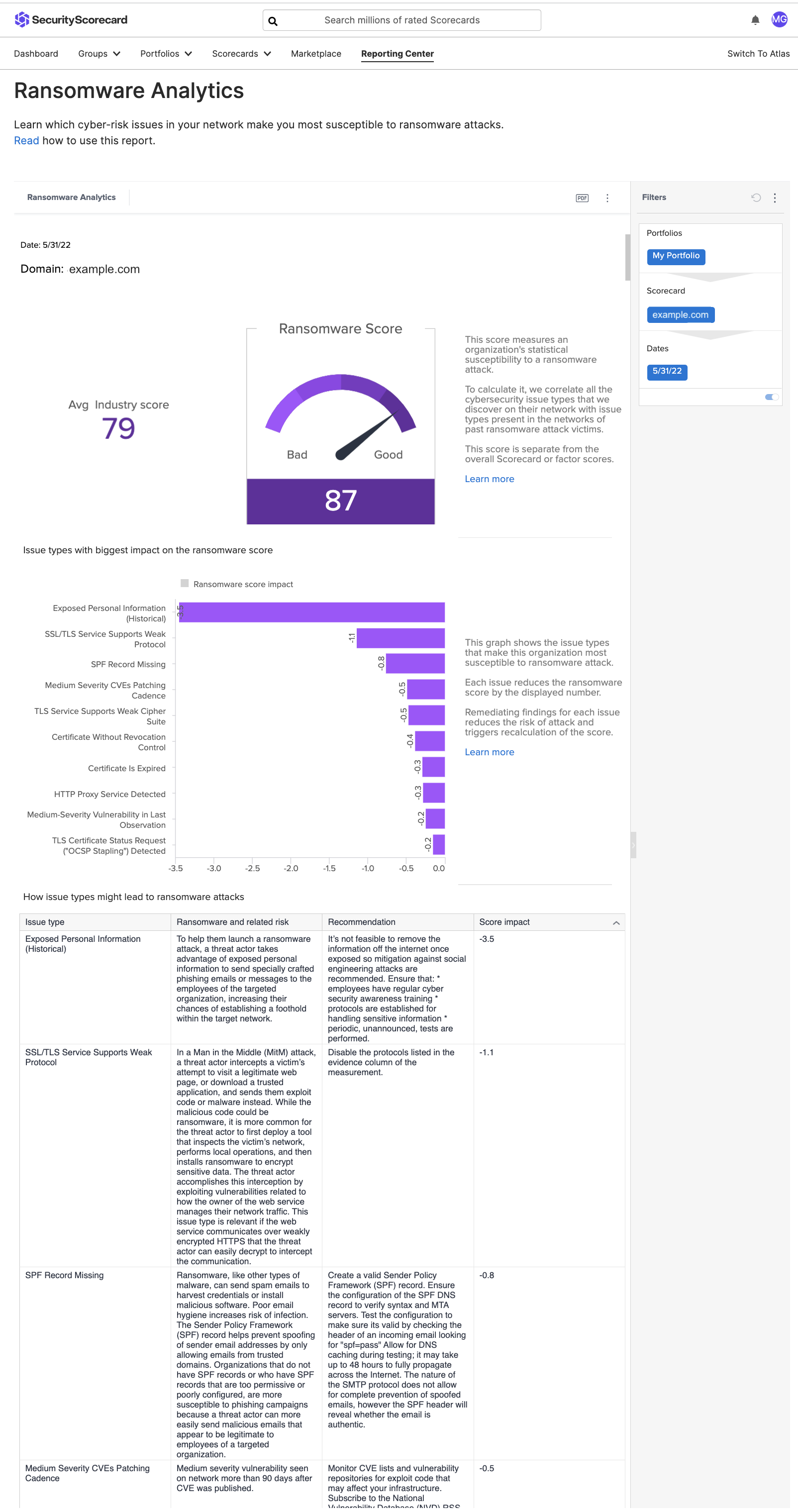 View and filter the report
You can filter the report data to focus on a specific Scorecards.
Select Reporting Center from the top navigation menu in the Ratings platform.




Select Ransomware Analytics from the available reports.




To use filters, hover over the grey handle on the right. When the triangle appears, click it to expand the filter pane.




Change filter settings by hovering over any of the filters in the right pane and clicking the Edit icon that appears.

To select a specific Portfolio or Scorecard, edit the relevant filter and then scroll through the list, or start typing the name of each item you want to see.
Click OK to apply each selection.





Note: Use only the Days setting for the Effective Date filter. SecurityScorecard recalculates the Ransomware Score on a recurring basis on these displayed dates.


Download the full report or sections
To share the report with team members or executives who do not have access to the SecurityScorecard platform, you can download it entirely as a .pdf file, or you can download some individual sections.
Download a .pdf of the report
Note: The .pdf version of the report only includes what the report displays in the platform.
Click the PDF icon that appears on the right side of the report.




Change any settings you want to and then click Save.




Download individual sections of the report
You can save some report sections as either an image or a .csv file. The latter downloads faster.
Click the three vertical dots for a report section.
In the pop-up window click the drop-down arrow and select a format.




Open the downloaded file in a spreadsheet editor.