In this article:
As you assess your security posture with the outside-in view that SecurityScorecard's data provides, enhance this view with digital risk intelligence signals from our partners.
SecurityScorecard, in its mission to make the world a safer place, leverages the resources and insights of leading cybersecurity data providers to bring even more depth into specific issues that your security team needs to know about.
See threats from other perspectives
Each partner in our expanding pool of integrations provides a unique security perspective:
Download digital risk intelligence apps
To install these partners' apps, log into SecurityScorecard, and go to the Digital Risk Intelligence section of Integrate360° Marketplace. Click an app to install it.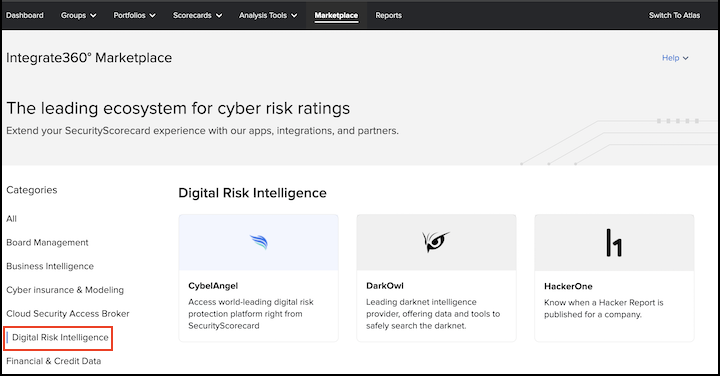 View partner signals in the Scorecard
Any SecurityScorecard customer can view partner signals.
Note: Partner signals are informational. They do not impact your Scorecard grade.
To see the partner signals:
Click the Issues tab in your Scorecard. Any available signal appears with the partner's logo in the informational rows of the table.




Click the signal to view details about it.


Learn more
See more details about our digital risk intelligence integrations in the SecurityScorecard Hub.
Get help
If you need help or have questions, submit a Support request.