In this article:
Problem
You sent an Atlas questionnaire, but the intended recipient did not receive an email with instructions for accessing the questionnaire.
The recipient should receive an email from assessment_request@securityscorecard.io that looks like the following screenshot: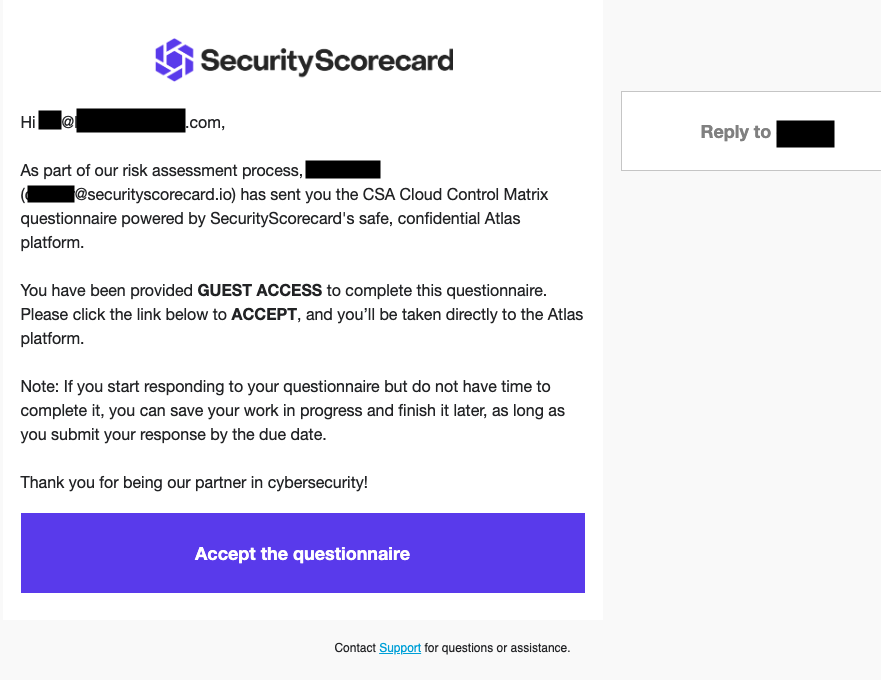 Solution
Many organizations filter out emails coming from outside organizations or the emails simply get lost the inbox, Junk, or Spam folder.


Option 1: Ensure the recipient receives the email
Send the recipient a notice that they should be receiving an email from SecurityScorecard.
Ask the recipient to have their IT team add assessment_request@securityscorecard.io to their allowlist if possible.
Note: Atlas supports only company emails and does not support emails from free providers such as Gmail, Yahoo, and others.
Option 2: Generate a link and email it to the recipient
Instead of selecting Send Questionnaire, select Generate Link.




Then select Copy Link to clipboard.




Then manually paste the link in your email to the recipient.
Note: If the recipient's organization already has a SecurityScorecard platform account, their SecurityScorecard admin will not need to approve access for the the recipient, so the recipient will simply be able to access the questionnaire as a guest.
If you need more help with questionnaire emails, please submit a support ticket.


See Also: